By Juha Liettyä
Let's go back to that perfect scene in a high-tech apartment and examine the setting from a practical point of view. Smart architectural glass means dynamic, truly multifunctional glazing. The windows in such homes can adjust to outdoor conditions automatically or manually. Just one click of a smartphone button activates a reactive tint that restrains heat and glare.



As a result – we get enhanced living comfort and energy savings without compromising the view. Complete protection from aggressive UV rays, insulation from the sounds of densely packed apartment buildings, plus assured safety and security – all these are included too.
Emerging technologies, such as special nanocomposites applied during glass production, have turned this pleasant dream into established reality at an affordable price.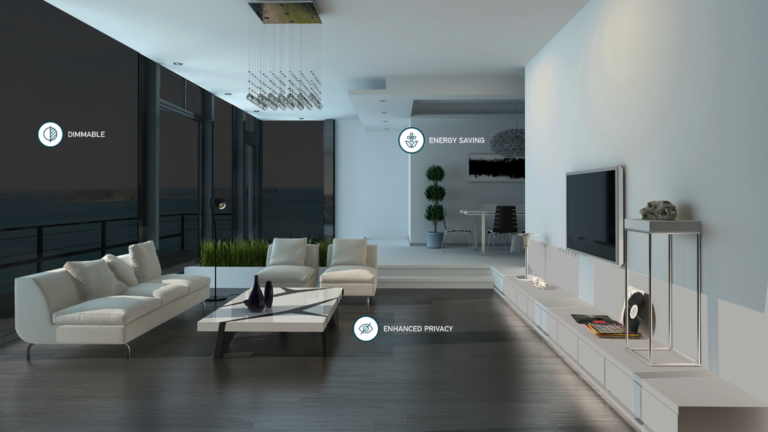 Drivers pushing in favor of smart
Remember, the technology for such a reality is already available. And as commercial prices of emerging innovations are dropping, regulations throughout the world are tightening, forcing action to be taken sooner to reduce energy consumption or even create energy.
In California, there are state subsidies for products and buildings that use smart glass, whereas Europe adopted the Energy Performance of Buildings Directive (EPBD) in 2010. This EU directive requires all new buildings to be practically zero energy ones by the end of 2020.
The next level up with BIPV glass
Building-integrated photovoltaic (BIPV) glass, with controlled transparency, is just one example of emerging technologies in the architectural glazing industry that is especially relevant because of the new directive.
Currently, buildings are responsible for around 36% of the EU's CO2emissions. In the near future, however, they have the potential instead to supply some 30% of the EU's energy demand. Therefore, switching to on-site solar energy generation integrated right into the window glass is one key to live up to this potential.
While most standard solar cells use visible light to produce electricity, innovative alternatives do not have to steal precious ambient light. Integrating the PV panes with a color-switching technology, such as electrochromics (EC), opens up a way to produce energy while still transmitting enough light, blocking the radiation or providing shading when necessary.