Q: Can you introduce your company, what you do, where you're from and what phase you're in now.
Gauzy is focused on developing, manufacturing, and marketing liquid crystal materials, and patented controllers, which allow glass to switch from transparent to opaque on demand. LCG (liquid crystal glass) provides a unique added value to any space and makes any glass surface multifunctional – opacity for privacy and projection when you need it, and transparency for an open atmosphere when you want it. Our Liquid Crystal films feature the lowest haze in the industry, and our patented controllers use ultra low energy consumption and ensure premium film performance. Gauzy's films are available in both Laminated and RetroFit solutions, supporting sophisticated and cutting edge architectural and interior design. LCG creates opportunities and solutions for various industries including construction, corporate, healthcare, retail, automotive, and more.
Gauzy headquarters is in Tel Aviv – Yafo, with additional offices in Germany and the US. Our dedicated sales representatives reach every continent, and we partner with Glass Processors worldwide in order to make Gauzy's technology accessible in any territory or market.
Q: What are you working on and what is the problem you've set out to solve?
Gauzy is always listening to the demands of the market and following trends to ensure we are providing what the world needs most in terms of cutting edge glass solutions. Stop by our booth to learn about current and new products available, or to discuss what we can provide you with to best fit your project or market.
Q: Please introduce your team.
Gauzy's entire team is dedicated to the continuous development and production of quality products. Attending GPD on behalf of Gauzy will be: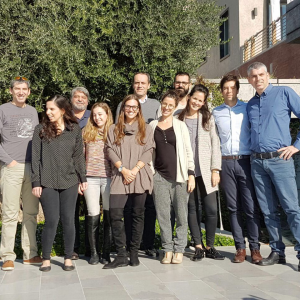 Eyal Peso, CEO & Co-Founder, Dan Schechter, VP Sales , Brittany Kleiman Swisa, Marketing Director and Dror Lupu, Sales Manager – Europe
In addition, our core management includes:
Adrian Lofer, CTO & Co-Founder, Yaron Dolev, COO, Dana Gal-Fuss, R&D Director, Gilad Dahan, CFO , Lee Cohen, VP Administration and Hadas Talmi, HR Manager
For a list of current partners, or to learn more, please visit http://gauzy.com/index.html#get