Q: Can you introduce your company, what you do, where you're from and what phase you're in now.
NEXT is a Santa-Barbara, CA company developing transparent energy harvesting window technology that allows architects and building owners to transform windows and glass facades into producers of low-cost, on-site, renewable energy for buildings.  NEXT's technology is enabled by proprietary organic semiconducting materials that are earth-abundant, low-cost, and non-toxic, and are coated as an ink in a high-speed, low-cost, and low-energy process to produce transparent energy harvesting coatings. Cost competitive with conventional energy sources, these coatings meet the acceptance criteria of the building industry, delivering excellent aesthetics, visible light transmission (30-60%), efficiency (>10%), lifetime (~30 years), and cost performance (2 year simple payback).
Q: What are you working on and what is the problem you've set out to solve?
 NEXT Energy windows provide an important solution for buildings as energy represents the single largest variable operating expense for commercial buildings, and regulatory regimes across the world are pushing toward zero net energy. Architects and owners are looking for cost-effective ways to reduce building operating costs, improve the carbon footprint of buildings, and incorporate renewable energy. Currently available technologies do not meet customer needs for seamless integration, good power conversion efficiency, high transparency, and low cost simultaneously.
Q: What are your expectations from the Step Change-experience and what are you looking forward to?
We're looking forward to promoting our innovative technology to (and learning from and establishing strong connections with) the leading global players in the glazing industry.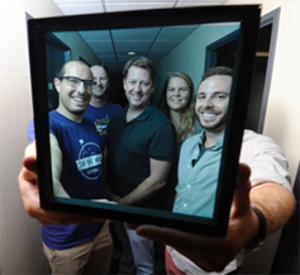 Q: Could you please introduce your team?
Daniel Emmett, CEO – Daniel has spent over 20 years working at the intersection of energy and the environment, with a focus on solutions to improve energy efficiency and reduce dependence on fossil fuels. Daniel led a portfolio-wide energy efficiency and conservation program for one of Southern California's largest owner/operators of commercial office buildings. He also worked in Indonesia and Central America doing conservation based development. He received a B.A. from U.C. Santa Cruz and an M.A. from Stanford.
Corey Hoven, Ph.D, CTO – Corey received his Ph.D. from the Department of Materials at the University of California, Santa Barbara. He also received the Graduate Program in Management Practice Certificate, from the Technology Management Program at the University of California, Santa Barbara. He earned a B.S. in Physics and a B.S. in Anthropology in 2005, focusing on renewable energy and barriers to sustainable energy development. His overall research focus was on organic solar cells with focus on device design.
Matthew Lloyd, Ph.D, Director of Lifetimes – Matthew obtained his Ph.D. from the department of Materials Science and Engineering at Cornell University where his research included seminal work on soluble small molecules for organic photovoltaics. He served as a Postdoctoral Fellow at Sandia National Labs. Prior to coming to NEXT, he was a Staff Scientist at the National Renewable Energy Laboratory (NREL) where he directed their OPV Reliability Effort, a NREL Core Program Funded by DOE. He currently leads NEXT's Lifetime and Reliability work.
Andres Garcia, Ph.D, Senior Scientist – Prior to NEXT, Andres was a postdoctoral researcher at the National Renewable Energy Laboratory investigating the application of transition metal oxides in organic solar cells. He received his Ph.D. in physical chemistry from the Department of Chemistry and Biochemistry at the University of California, Santa Barbara, where his work focused on charge transport and organic light emitting diodes (OLEDs). His work at NEXT is focused on the design and fabrication of high performance organic PV cells
Bruno Caputo, M.S., R&D Engineer – Bruno received his BS in Physics from James Madison University and an MS in Materials Chemistry from the University of California, Santa Barbara. At UCSB, he focused on device fabrication and characterization of organic solar cells using both polymer and small molecules. At NEXT, his research focus is on fabricating small molecule OPV devices printed onto larger area and/or flexible substrates using methods suitable for scale up.
Contact Information:
Next Energy Technologies Inc. (NEXT)
www.nextenergytech.com
5385 Hollister Ave., #115
Santa Barbara, CA 93111
(805) 222-4532
Follow NEXT Energy in Social Media:
LinkedIn
Facebook
Twitter
Instagram