Q: Can you introduce your  company, what you do, where you're from and what phase you're in now?
LightGlass introduces a new technology to the smart glass market: self-illuminating glass. Our patented technology ALED provides high-quality daylight simulation for rooms with little or no access to natural daylight. It provides both high-end lighting and switchable privacy in one technology.
The fact that glass is now the source of light marks a paradigm shift and will implicate a fundamentally change of our perception of light. But it's not all about prospective scenarios: LightGlass technologies can be integrated into all conventional architectural glass products. This is the key for its wide range of uses and the potential of becoming a new standard in the glass and lighting industries.
Q: What are you working on and what is the problem you've set out to solve?
ALED technology offers artificial light in daylight quality at the push of a button even in darkness, which is not only of interest in northern latitudes, but also when it comes to living and working comfortably. ALED Privacy-Plus, the new technology from LightGlass, also offers adjustable visual protection and the unique chance to fulfill both the need for complete transparency and absolute privacy.
The second technology development – ALED Branding Solutions – provides the partial illumination of the glass surface which allows a unique presentation of brands and designs completely integrated into the glass.
The third technology offered is the LightGlass TechWall. The technology integrates electronic modules – such as displays, sensores, interfaces, etc. – into the glass.
Q: Could you please introduce your team?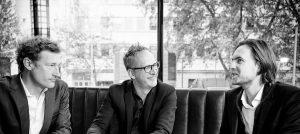 Managing Partners: Paul Brettschuh, Andreas Wiesmueller, Felix Zabel
LightGlass is an interdisciplinary team with a strong background in electronics, lighting and architecture.  Furthermore the team members gained extensive business experience in different industries and therefore are both familiar with the operational and strategical business of start-up companies as well as of major enterprises. The LightGlass core team consists of 8 members and cooperates with national and international development and production partners.
LightGlass is an Austrian technology company founded in 2014. The patented technologies are currently rolled out to leading companies/product manufacturers in the sectors windows, doors, elevators, etc. and generalists in the glass and lighting industries.