Registration Information
You can now register for the event via the link provided below. The registration fee is 300 EUR or 2300 RMB per person
The fee includes a full day conference program and material, coffees, lunch and one dinner. The dinner is only through reservation during th

e registration process. Since the dinner capacity is limited, admission is on first come/first served basis.
Renaissance Shanghai Putuo Hotel, 50 Tong Chuan Road
200333 Shanghai, China
Tel: +86 21 2219 5888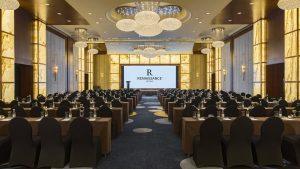 Renaissance Shanghai Putuo Hotel website
Conference program
Download GPD China 2018 program/agenda in English
GPD China 2018 program/agenda in Chinese to be released soon
Contact The organizers
Contacts for registration inside China
China Building Materials Academy Guanzhuang Dongli,
Chaoyang District, Beijing 100024
People's Republic of China
Ms. Shi Lin (Chinese/English languages)
+ 86-10-51167145
shilin@ctc.ac.cn
Contacts for registration outside China
Mr. Brown Onduso (English language)
+358 40 773 93 13
brown.onduso@gpd.fi

Click the following link to Register. GPD China 2018 Participant Registration