New Venue concept – open concept adopted to
Enhance networking activities
Improve attendee logistics between sessions
Provide new and different experience to all participants
The conference will be held in a new facility, Tähtiareena, which is part of the Tampere Trade Fair Complex. The new venue enables us to stage the GPD Conference in one open 5,000 square meter space, which will be divided into six seminar sections with their own presentation and audio units. The open nature of venue makes moving between sessions and presentations easy and efficient – the same is true for participant networking. At the center of the open space we will construct a special Expo and Step Change area accessible from all directions, which could not be effectively done in the old venue. Running from session to session between floors, corridors and closed doors is no longer necessary.
Welcome to the new GPD!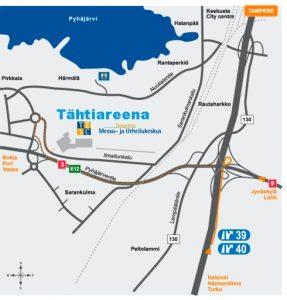 Map & Directions Information
Tähtiareena is a part of Tampere Exhibition and Sports Centre (Tampereen Messu- ja Urheilukeskus).
Address: Ilmailunkatu 20, Hall E, 33900 Tampere. 
How to get there information & Google Map Location 
There will be bus transportation from the official GPD hotels (Cumulus Koskikatu, Cumulus Hämeenpuisto, Holiday Inn Central Station, Lapland Hotels Tampere) to the event venue. Participants staying in other hotels can join the bus transportation from above mentioned stops. The average travel time is around 15 min.
GPD Buses Timetable