It's been 25 years since the first Glass Performance Days conference was held in the summer of 1992 in Tampere, Finland.
Were you one of the participants then? If you recognize yourself or someone from these GPD 1992 photos, please help us unite this great team of glass industry pioneers once again.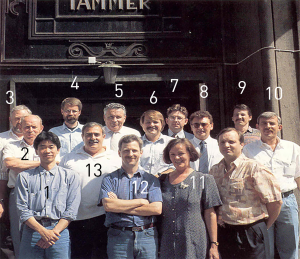 We're looking to get the names, contact information and email addresses for each of the persons numbered in these 2 photos.
To make this year's GPD especially memorable, we want to gather those who were part of the first GPD event, which has now grown into today's biggest, most renowned and awaited event in the glass business.

Free admission for our special 1992 group!
As special thanks for supporting us at the very start of a long and successful journey of the conference, we're inviting all GPD 1992 participants to be our special guests this year with free admission!
Help us find these persons – and let them know!

Be the first to name the most!
For those of you who name the most people in these photos, we also have a very special prize waiting for you in June.
Please send us the names of the persons you recognize in the photos, their contact information and email address to Jorma:  jorma.vitkala@glaston.net or Katriina: katriina.istolahti@glaston.net.
Whether you know these people or not, you might still want to check our final and very 2017 program of the upcoming conference.
Over 180 insightful presentations and 17 hands-on pre-conference workshops are waiting for you this special 25-year Anniversary GPD.